Details for Different Event Types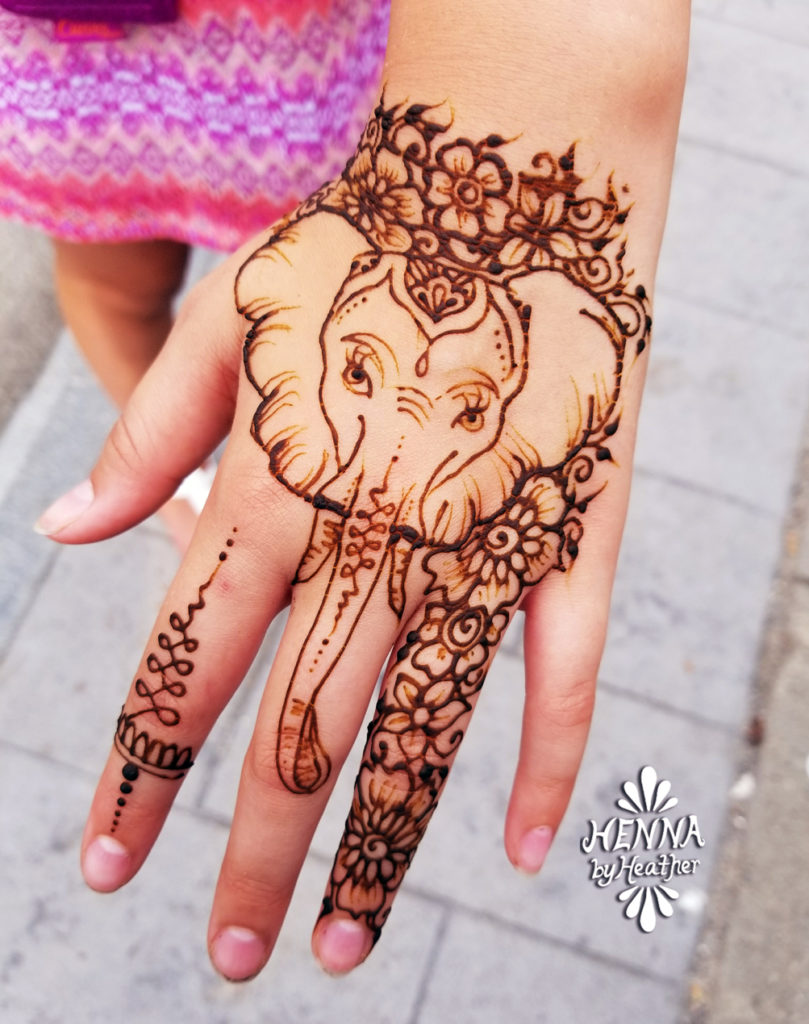 Overview of Services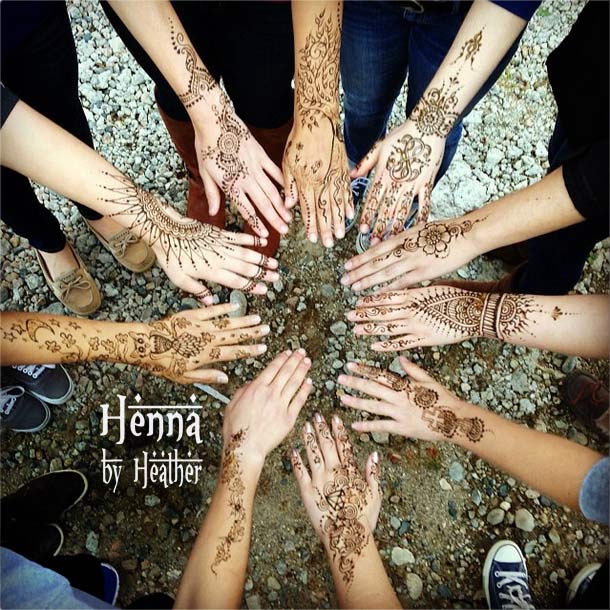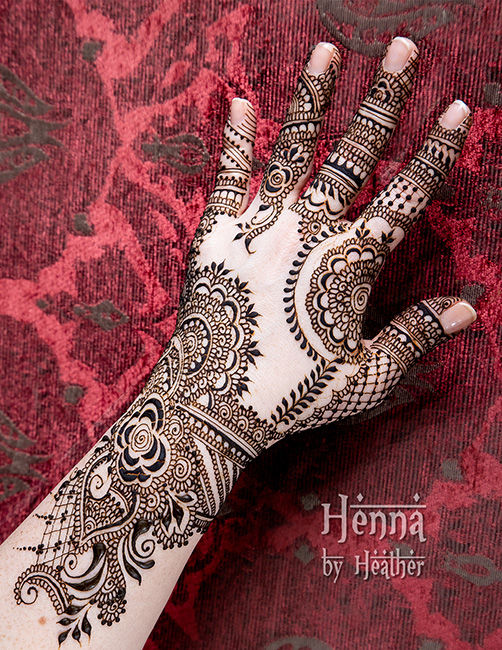 We offer henna services for all types of events!
Weddings, corporate events, festivals, birthday parties, baby showers, b'nei mitzvahs – we are happy to work with you to make any event special
Our day rates are:
$2030 Mon-Wed
$2180 Thurs and Sun
$2290 Fri, Sat, and other peak dates (holiday weekends and other popular dates)
For weddings, this works out particularly well if you can do bridal henna in the morning, the bridal party and close family in the afternoon, and the guests in the evening.
Our standard hourly rate is $295
Our rate always includes all travel, supplies, and applicable taxes, so there are never any surprise fees.
On off-peak dates, we can often offer a discounted hourly rate of $260.
Late-night events after 9pm and holidays (including the weekends before/after and any days between) are time-and-a-half.
Heather personally exclusively takes day rate bookings for any day of the week during peak wedding season (June through September), and Thursday through Sunday the rest of the year.
We work with a team of talented, professional henna artists to get you the henna you need for your event! All artists we work with have special training in doing henna for large events to ensure that they are able to do beautiful designs quickly. We also have artists who specialize in bridal mehndi, belly henna, and more.
We serve southern New England… and worldwide!
Our normal service area includes Boston MA, Metro West MA, South Shore MA, Cape Cod MA, Providence RI, Newport RI, New London CT, Hartford CT, Nashua NH, Portsmouth NH, Kittery ME, and everything in between. We're available to travel just about *anywhere* – and have! We've been to Australia (Sydney), Mexico (Puerto Vallarta), California (San Francisco), Ohio (Akron), Illinois (Chicago), Florida (Orlando, Key Largo), Colorado (Boulder, Denver), and more in the name of henna.

Heather's current dream travel list includes Cozumel Cancún and any Mayan sites in México, Tokyo and all of Japan, Malta, Dubrovnik and Split Croatia, London & all England, Dublin & all Ireland, Atlantic Beach North Carolina, Key Largo and Orlando Florida, Baiae Naples Rome Florence Venice and all Italy, Athens Corfu Mykonos Santorini and all Greece, just about anywhere where there is good scuba diving at <80ft, and anywhere there is pirate-related or other interesting history. We can probably work out a very good deal if that's where you are and your event is at a time we don't have other obligations 🙂
How much time should I book?
If you're booking a wedding, please read our wedding guide.
For other events, consider how many guests you'll have present, and how much henna you'd like them to be able to get. Keep in mind that the henna will last much longer, result in better photos, and be a more memorable experience for guests than most other things at an event. Guests won't remember the details of your catering or beverages, but they will cherish and share photos of their henna for years to come.
5 Minutes Each:
Basic guest henna at an event is 5 minutes per person (12 per hour). This allows for each person to get an authentic and traditional, but relatively simple, design on one hand.
Typically, at a mixed-gender, mixed-age affair, 50-60% of guests will want henna.
At an all-woman super traditional mehndi party, closer to 90% of guests will get henna (even if they *say* they don't want it before the event – they almost always will once they see it in person!)
10 Minutes Each:
If you'd like guests to be able to get both hands done with designs like those above, or if you'd like them to be able to get a more intricate design like these on just one hand, you'll want to book 10 minutes per guest: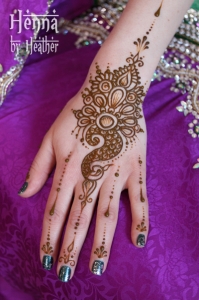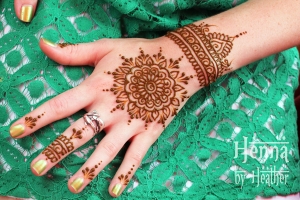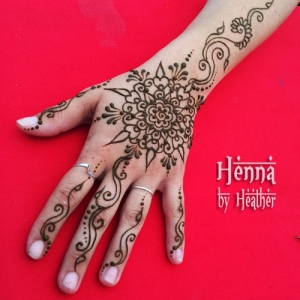 20 Minutes Each:
If you're just doing henna for the bridal party or those arriving early for a smaller pre-wedding function, you might consider doing 20 minutes or more per person. This would allow for fronts and backs of both hands with 5min designs, two 10min designs, or one of the below 20min designs.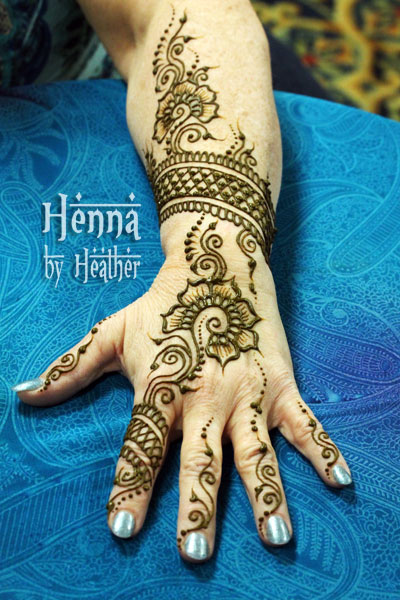 Our Service Area
We are based in primarily serve Southern New England (between Boston MA and Providence RI).
We are happy to travel any and everywhere, and frequently do!
Locations within a 1 hour drive of Attleboro, MA* are in our primary service area. These have a two hour minimum and are eligible for our off-peak rates when those are available.

*Per the high end of a Google Maps estimate for your desired date and time.
Rush hour will impact this significantly – let's plan around it! As you know from painful experience if you live around here, Boston is now an hour drive from Boston. Therefore we have to plan on it being 1.5 so we aren't late due to traffic.
Our secondary service area includes anywhere within a 1-4 hour drive. Booking minimums vary, and we may or may not require a hotel room for 1-2 nights depending on event length and timing.
Events 4+ hours away require at least a two day booking, and we will need a hotel room for three nights (before, during, and after your booking).