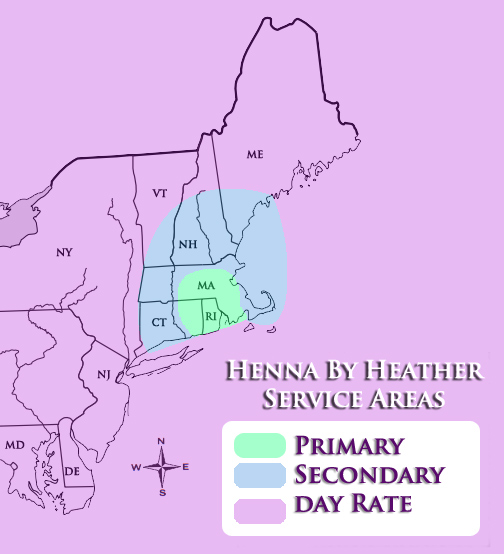 We happily travel anywhere for henna!
Locations within a 1 hour drive of Attleboro, MA are in our primary service area, with a 2 hour booking minimum.
Our secondary service area includes anywhere within a 1.5-2.5 hour drive, with time booked at least equal to time spent driving.
We can be booked at our day rate for anywhere farther than a 3 hour drive away. We'll also need a hotel room for the night.
This map is a general approximation of our service areas; exact drive times will depend on proximity to major highways, anticipation of rush hour or vacation traffic, etc.
towns in our primary service area within MASSACHUSETTS
We found these by looking at a map for a very long time. We really hope we didn't leave your town out, but if we did and you're pretty sure it's within an hour's drive of Attleboro, please let us know!
Abington
Acton
Acushnet
Allston
Arlington
Ashland
Attleboro
Auburn
Avon
Bellingham
Belmont
Berlin
Bolton
Boston
Bourne
Boxborough
Boylston
Braintree
Bridgewater
Brighton
Brockton
Brookline
Cambridge
Canton
Canton
Carver
Clinton
Dartmouth
Dighton
Dorchester
Douglas
Duxbury
East Bridgewater
Fall River
Framingham
Franklin
Freetown
Grafton
Hanover
Hingham
Holden
Holliston
Hopedale
Hopkinton
Hudston
Hull
Hyde Park
Jamaica Plain
Kingston
Lakeville
Lancaster
Lexington
Mansfield
Marshfield
Mattapan
Mattapoisett
Maynard
Medfield
Medford
Medway
Middleborough
Milford
Millbury
Millis
Milton
Natick
New Bedford
Newton
Newton
Norfolk
North Attleborough
Northborough
Northbridge
Norton
Norwell
Norwood
Oxford
Pembroke
Plainville
Plymouth
Quincy
Randolph
Rehoboth
Rockland
Roslindale
Roxbury
Scituate
Sharon
Sherborn
Shrewsbury
Somerset
Somerville
South Attleboro
Stoughton
Stow
Sudbury
Swansea
Taunton
Upton
Uxbirdge
Waltham
Wareham
Watertown
Wayland
Webster
West Roxbury
Weston
Westport
Weymouth
Whitman
Worcester
Wrentham
Wrentham
towns in our primary service area within RHODE ISLAND
All of Rhode Island is within our Primary Service area with just one exception. Block Island is outside this area since it requires a ferry trip as well as an hour's drive. Rhode Island has a lot of little villages and census-designated places… we've listed some that we hear people referencing often, but know it's very possible that we've left yours out… If you're upset and want us to add yours to the list, please let us know 🙂 We didn't even include our own precious homestead of Darlington, since most people go "huh? where's that?" when we tell them that's where we live… (hence us defaulting to telling people to basically think of it as if we're coming from Attleboro MA, which is less than 1 mile away…)
Ashaway
Barrington
Bristol
Burrillville
Carolina
Central Falls
Charlestown
Chepachet
Coventry
Cranston
Cumberland
East Greenwich
East Providence
Exeter
Foster
Foster Center
Glocester
Greene
Greenville
Hopkinton
Jamestown
Johnston
Kingston
Lincoln
Little Compton
Middletown
Misquamicut
Narragansett
Newport
Newport East
North Kingstown
North Providence
North Smithfield
Pascoag
Pawtucket
Portsmouth
Providence
Richmond
Scituate
Smithfield
South Kingstown
Tiverton
Wakefield-Peacedale
Warren
Warwick
Watch Hill
West Greenwich
West Warwick
Westerly
Wickford
Woonsocket
Wyoming
towns in our primary service area within CONNECTICUT
Some parts of CT that are close to the RI border that are accessibly by major highways (95, 6, 395) fall juuuust along the right side of the edge of our primary service area, since they're still only about one hour away.
Griswold
Killingly
Ledyard
Mashantucket (and Foxwoods Casino)
Montville
Mystic
New London
North Stonington
Norwich
Plainfield
Preston
Putnam
Stonington
Uncasville (and Mohegan Sun Casino)
Awesome! We travel anywhere outside our primary and secondary service areas for our day rate plus travel expenses (like hotel, and flight/train/etc if needed). See the main Services page for info on that.