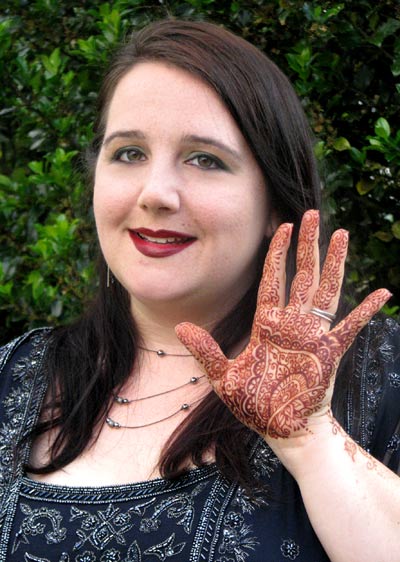 Heather is an internationally certified, fully insured henna artist (aka mehndi designer) based between Boston MA and Providence RI, providing beautiful traditional and contemporary henna designs throughout New England and beyond.
Heather has been a henna artist since 1999, and has been doing art in general for as long as she can remember, thanks to a very supportive and creatively nurturing family. As an honors graduate of the Anthropology program at Boston University (2002), her passion for the art of henna comes from a deep respect for the cultures that use henna traditionally, and she is continually furthering her research on henna traditions.
Heather is the hostess of the Henna Gathering, tied with Neeta Sharma's Spring Fling henna conference for longest running henna conference in the United States. She teaches workshops for colleges, schools, after school programs, libraries, and adult education programs, as well as offering private lessons. Her henna work has been featured at such respected galleries as the Rhode Island School of Design Museum, the Hygienic Art Gallery, the Traina Center for the Arts, and was featured in world reknown henna artist Riffat Bahar's exhibit of henna and mehndi art at the Slough Museum in the United Kingdom. Heather's artwork has won competitions open to all henna artists worldwide.
Her instructional videos have been an inspiration and important source of information for innumerable henna artists in training. Her books of henna patterns in all styles, many designed specifically for henna beginners, have been published electronically, and she is also very generous with free henna patterns for all who visit her website. Wanting to provide others with access to the same high quality henna supplies of the calibur she uses herself, she has opened an onlinehenna / mehndi supply store, Artistic Adornment. Heather also runs an artist agency for henna artists throughout the US, all of whom she is glad to have met personally and worked with many times.
Heather is extremely grateful for how the art of henna has taken her to so many interesting places and helped her meet so many wonderful people. She looks forward to continuing on this journey and meeting many more lovely folks.
Henna is a natural reddish brown plant dye that is used to create beautiful, temporary body art. It lasts from 1-3 weeks, typically around 7-10 days.
We take pride in making our henna from scratch, only the finest quality henna powder, lemon juice, and essential oils.
Want to learn more about henna?
Check out some of our most popular About Henna blog posts!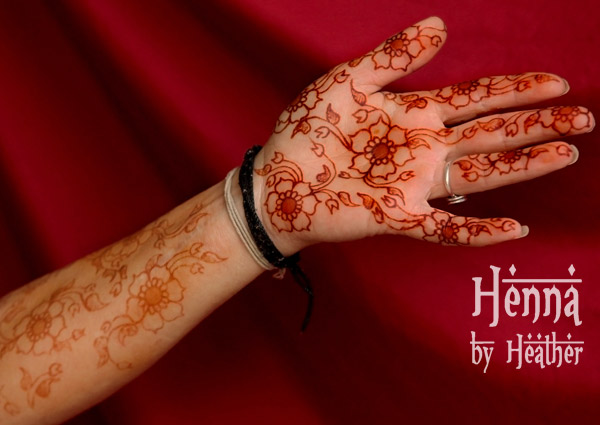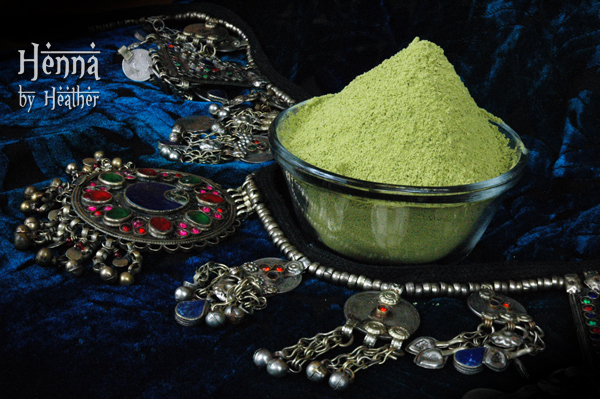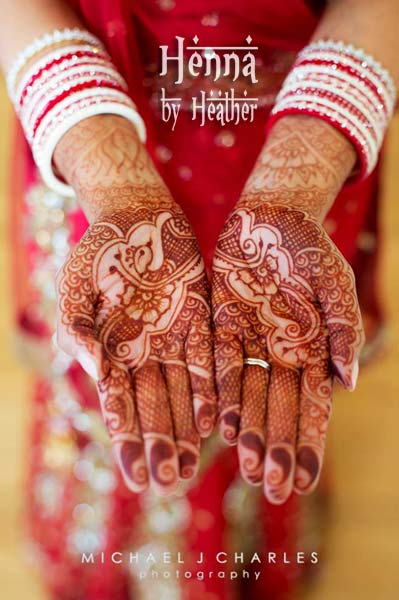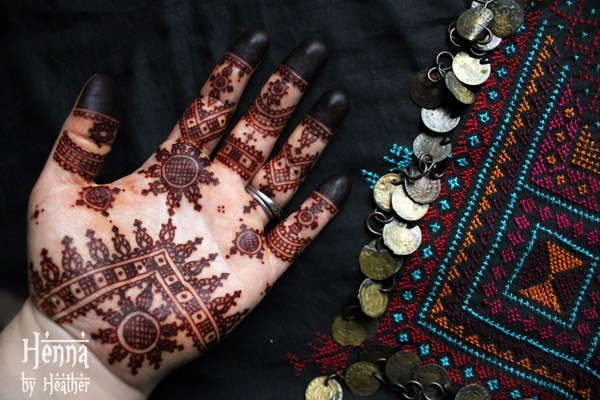 Heather first learned about henna in an anthropology class in her first year of college (1999). The intricately beautiful patterns of traditional Indian bridal henna immediately captivated her, and inspired her to pursue further research into application methods and design elements. First doing henna just for herself and friends, but eventually more and more people inquired, and she found a spot doing henna weekly at much loved, now closed store called Estas Elementals in Providence, RI. From there, she started doing bridal henna and weddings on-site at people's functions (back in the day before everyone had a GPS in their car! oh, the map-consulting adventures!). Now Heather is happy to share her art at many of the premier arts and cultural festivals throughout Southern New England, go to destination weddings throughout the US and even Mexico, and travel as far as California and Australia to teach the next generation of henna artists.
As an anthropology graduate, Heather's love for henna stems from an interest in and respect for cultural traditions. Innovations that keep things current and relevant are welcomed and encouraged, especially when they come from a place of understanding traditional henna design patterns and ritual practices. As more people worldwide are able to share their designs easily online, it is important to follow these changing trends and be able to offer them to her clients while still maintaining high artistic standards and deep cultural understanding.
In addition to providing her artistry for events, Heather is also deeply engaged with the henna artist community. She runs the
Henna Gathering
, an annual conference for professional henna artists and moderates the very active
online forum
for the conference. Her henna supply company,
Artistic Adornment
, provides premium quality materials for other artists who share her passion. She releases
henna design books
frequently, providing other artists with designs they can use in their own professional practice. She also has a popular
YouTube
channel.