There are two main things to consider for the henna for your wedding – what you yourself will have done for your bridal design, and what you'll provide for guests.
Bridal Henna
Bridal henna typically takes about 3-5 hours, depending on the design chosen.
Super simple bridal henna can be completed in 1-2 hours, and over-the-top Bollywood star caliber henna takes 8+ hours of work and is typically done with multiple artists working simultaneously.
So how do you know how long you should book for the henna you envision for your big day?
The Bridal Mehndi category of my gallery actually includes clickable links to longer descriptions of the majority of the images. Typically, I will mention how long the design shown took to do. So, you can go through the images and see what best matches up with your vision, and can pretty easily figure out what sort of time and therefore price range you are looking at.
The very best thing to do is to put together a Pinterest board! Pin images from my website or anywhere else, and include notes about what you like about each image. Create a public board, and then share the link with me via email (easiest! and lets friends/family weigh in if you'd like!)  – or create a private board and be sure to both share with my account and then email me to let me know you've done so. (I get a *lot* of Pinterest notifications and might miss yours without the followup message directly from you).
This will help me really understand your preferences, and will help me custom design your bridal henna to fit within your timeframe and budget.
Some things you may want to consider:
-How much coverage do you want?
-What style do you like?
-Are there any important symbols you'd like in your design?
-Will you be hiding the groom's name or initials in the design?
-Will you have your feet done too, or just hands?
-Do you want heavier henna on one side of the hand than the other? Brides traditionally get their palms done very intricately, with something simpler on the backs of the hands. More recently, there has been a trend developing to get the more intricate work done on the backs of the hands, so that even in candid photos, the most beautiful henna is likely to be showing. Intricate palm henna makes for the best "look at my henna!" posed photos, as the color on the palms is extra red and rich due to the thicker skin. If you can do both sides intricately, go for it! But if you'd prefer to do one side fancier than the other, consider whether you're more of a posing and purposefully showing off or casually wearing and letting people catch candid glimpses sort of person, so that you can be sure your henna is best captured in your wedding photos.
-It's quicker to cover an area with heavier lines than thin ones.
-Figures and faces (bride and groom, gods and goddesses, etc) take a long time, because it takes great care and patience to get all the proportions right – there is no erasing in henna! Add 20 minutes per figure or face.
-You actually don't need intricate henna in the area that will be covered by bangles, if you'll be wearing them, for the "wow" impression on your big day. Consider having a lighter, simpler design under where bangles will be worn on the wedding day, saving the intricate work for where it will be seen more.
Overwhelmelmed? Too many choices? Just want to book your henna already and stop thinking about all your options?
Four hours is our average bridal booking for hands + feet. Three hours is average if doing hands only.
Go with that and you'll almost certainly be happy!
Guest Henna
When choosing henna for the guests, consider how many guests you'll have present, and what you have available to budget for their henna. Keep in mind that the henna will last much longer and be a more unique, interactive experience for guests than the catering, cake, or beverages.
5 Minutes Each:
Standard guest henna at weddings is typically 5 minutes per guest (12 per hour). This allows for each person to get an authentic and traditional, but relatively simple, design on one hand. This is the norm at 80% of the weddings we do.
Typically, at a mixed-gender affair, 50-60% of guests will want henna (most women and children, and a few adventurous men).
At an all-woman super traditional mehndi party, closer to 90% of guests will get henna (even if they *say* they don't want it before the event – they almost always will once they see it in person!)
Time to plan: for 5 minute designs, 12 guests per hour per artist
up to 24 guests: 2 hours with 1 artist
25-36 guests: 3 hours with 1 artist
37-48 guests: 4 hours with 1 artist, or 2 hours with 2 artists
49-60 guests: 5 hours with 1 artist, or 2.5 hours with 2 artists
61-72 guests: 3 hours with 2 artists, or 2 hours with 3 artists
73-84 guests: 3.5 hours with 2 artists, or 2.5 hours with 3 artists.
etc…
Here are some examples of designs that take 5 minutes each: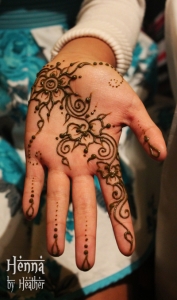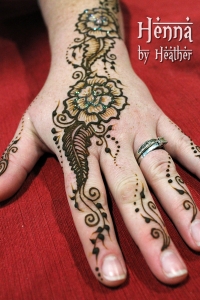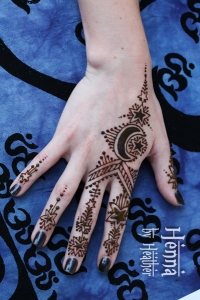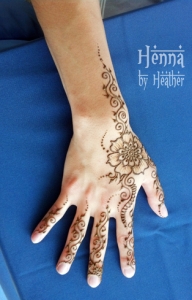 10 Minutes Each:
If you'd like guests to be able to get both hands done with designs like those above, or if you'd like them to be able to get a more intricate design like these on just one hand, you'll want to book closer to 10 minutes per guest: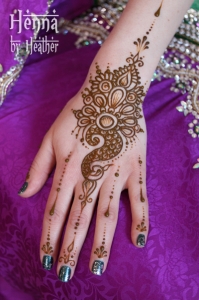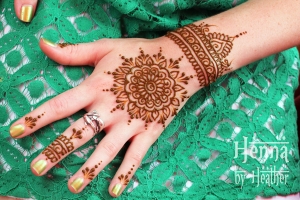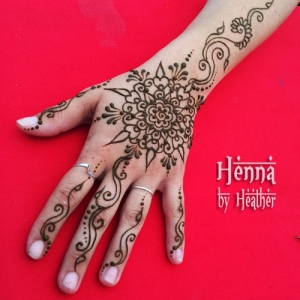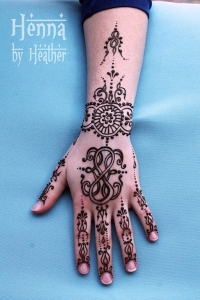 Double the time estimates above to determine how much time / how many artists you should book.
20 Minutes Each:
If you're just doing henna for the bridal party or those arriving extra early for a small pre-wedding function, you might consider doing 20 minutes or more per person. These designs took around 20 minutes each: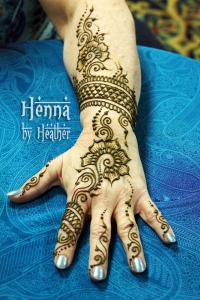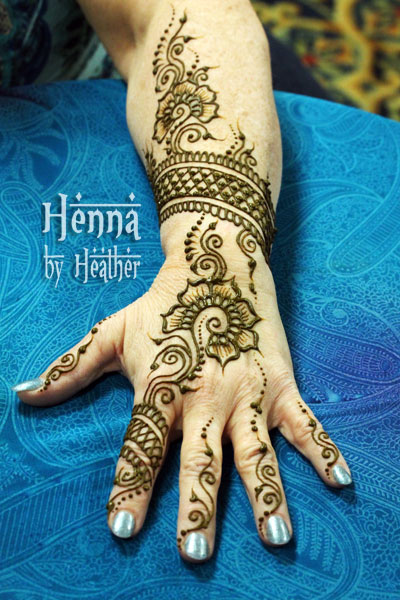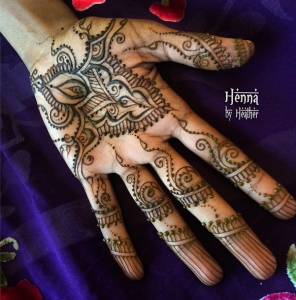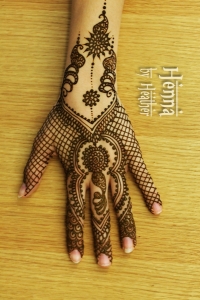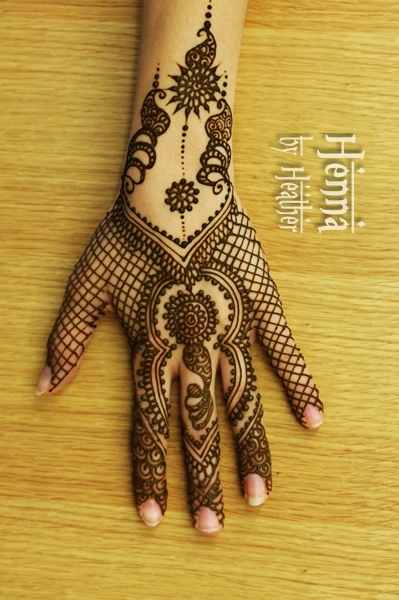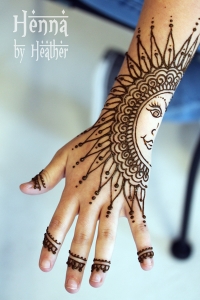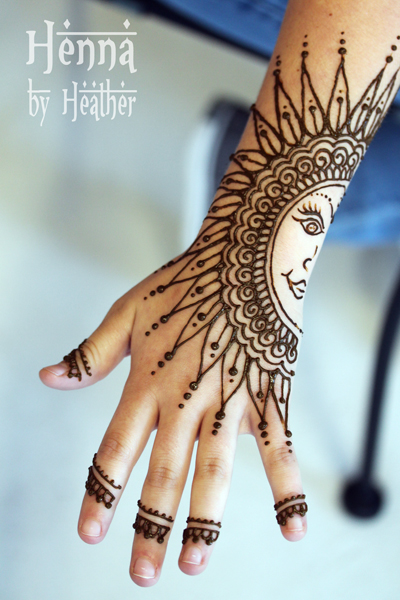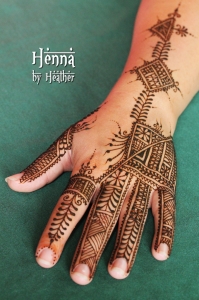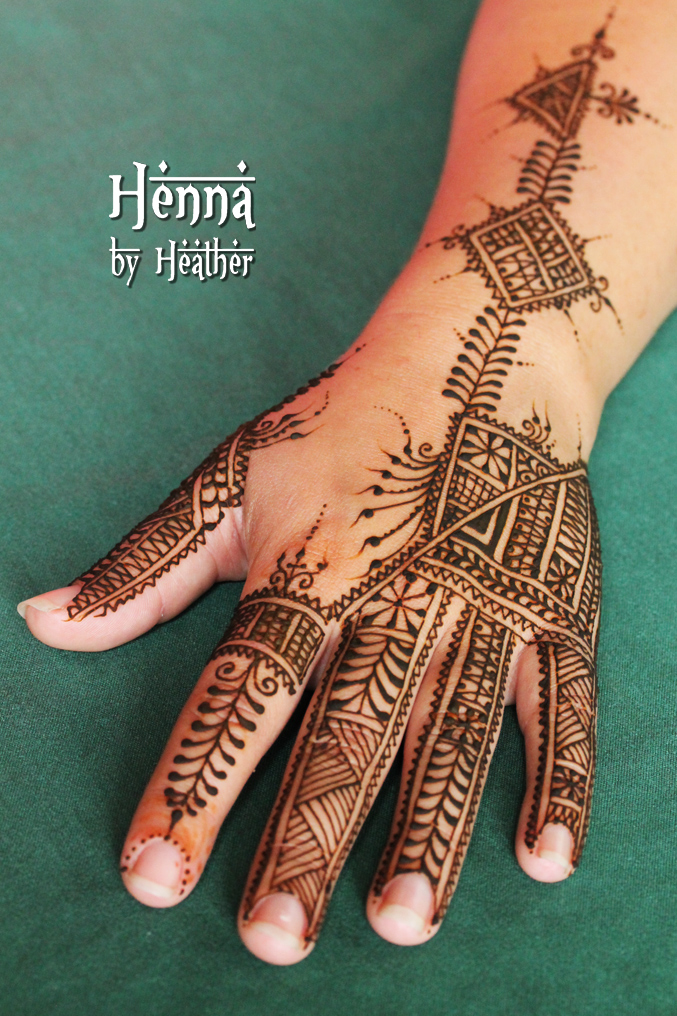 Timing
You'll want to have your bridal henna done 2-3 days before the wedding. Henna takes 2-3 days to fully darken. In a pinch, you can do one day before, as early in the day as possible. You could also get away with doing the henna 4 days before the wedding (especially late at night, keeping it on overnight).
If you do bridal and guest henna in the same day, and you have a lot of guests and/or want some fairly intricate henna for yourself, you can take advantage of our all day flat rate! Often brides will do their henna in the late morning or early afternoon before most guests arrive, have close family and bridal party members get a little something in the downtime between bridal henna and mehndi party, and then open henna up to everyone at the mehndi party.
Other Tips
You'll need to keep your henna on for at least 4 hours after it's done being applied, and preferably more like 8. It's best to make a day of it and not plan other stuff afterwards. If you absolutely must take the henna off after just 2 hours, I will give you every tip known to henna artist kind, and the color will probably come out okay, but I cannot 100% guarantee your color the way I can if you leave it for at least 4 hours.
Have a frying pan with boiling water (or chai!) on the stove, so you can steam your henna. Steam makes the henna set faster and get much richer color. Heat and moisture are both good for the color.
Do your manicure before your henna. Exfoliants and nail polish remover will kill your henna.
Do your spray tan after your henna. Spray tan creates a barrier that prevents the henna from working properly.
Take your contact lenses out before we apply your henna, if you wear them. Your fingertips will be useless for getting them out later.
Wear comfy clothes. You're going to be sitting still for a pretty long time.
It's tradition for someone to feed you while you're getting your henna done, especially for a more epic 4+ hour session. Let them! (And make sure someone else takes these priceless photos… if she's around, it'll be some of the last hardcore mothering your mom will get to do before you're a married woman!) Smoothies are fantastic henna day food. Grapes are good. Anything bite-sized or sippable.